My #top10 2017 weddings series couldn't be complete without this gorgeous winter wedding we designed for Ana and Vitalik this past December at the Red Crest Gold Club up north in King City. First and foremost you need to understand something about the property, it's HUGE, its vast and so so lush. That is something that I love about the golf courses that are more up north that are able to expand their property and create beautiful uninque details, like ponds and lakes, bridges and gazebos, and other elements that another wedding venue would simply not have.
So here is a little sneak for you before I go on.... 
I mean did you get a cabin fever yet or what??? Anyway the inside is stunning, the architectural elements and the raw bones of the space is truly Canadian and very warm. I feel this space can go either way, it could be very rustic, natural and organic on the other hand it could be very elegant and have a very elevated event with the right decor elements. Below is one of the custom iron chandeliers that they have there, I mean twinkle light is life here !!!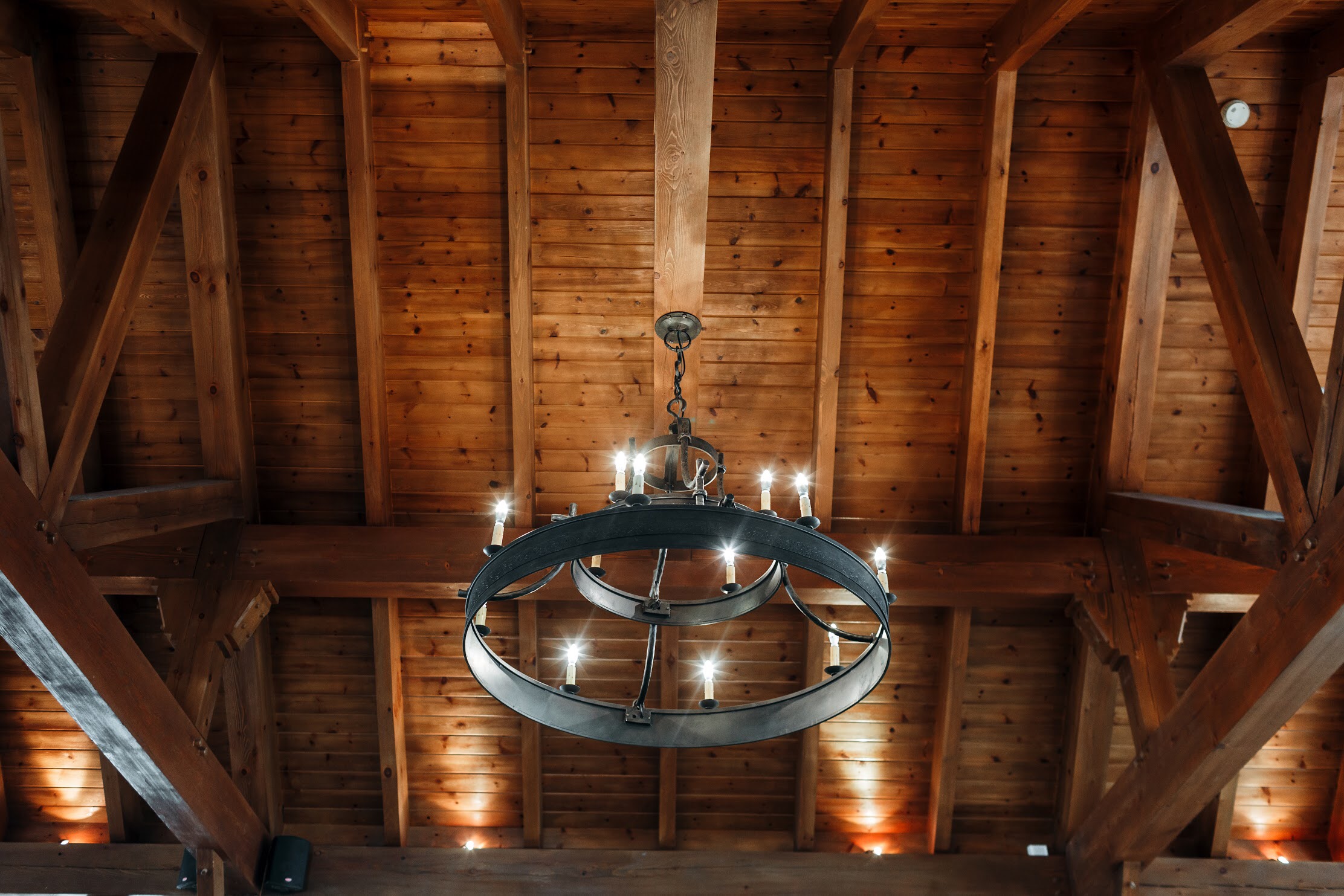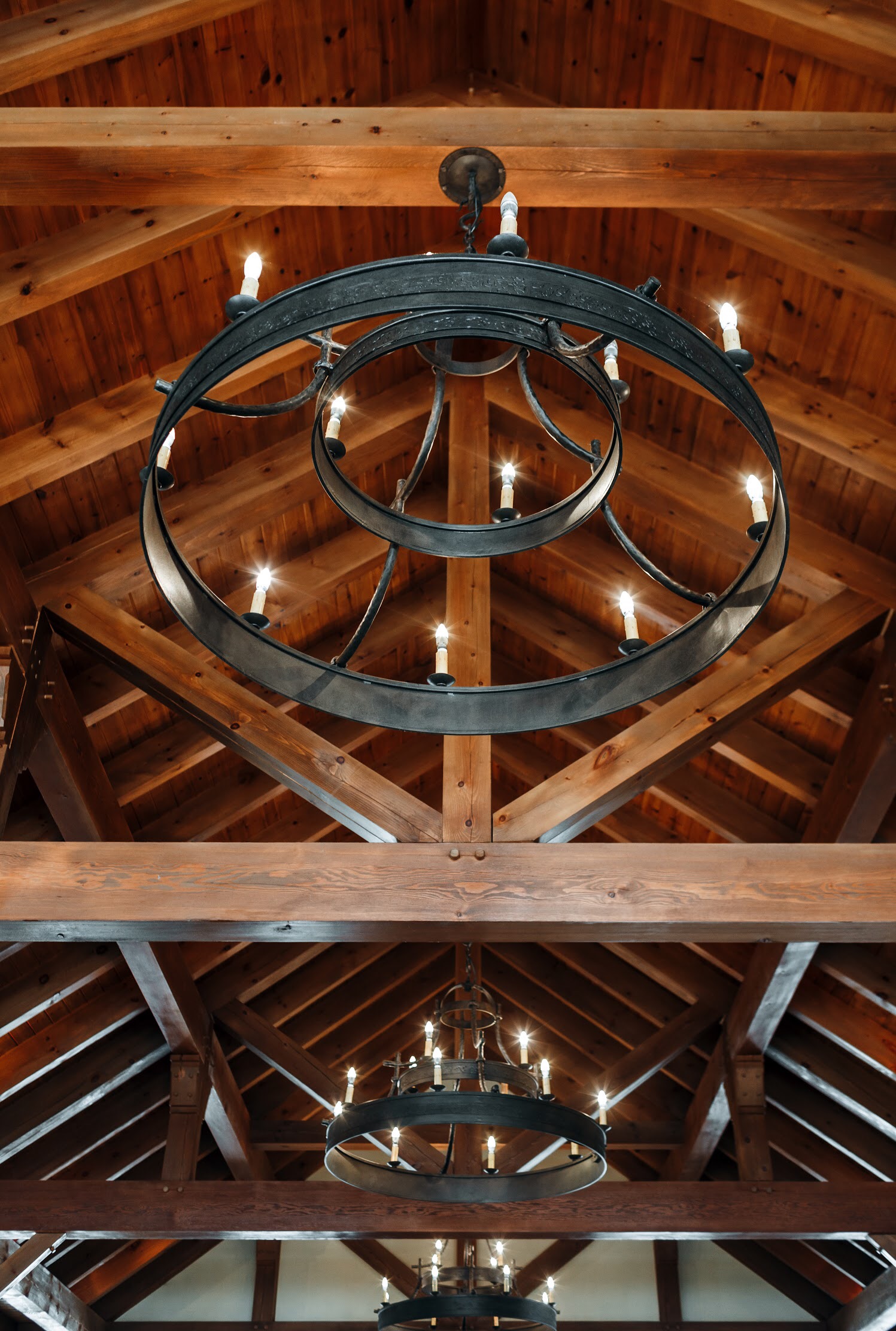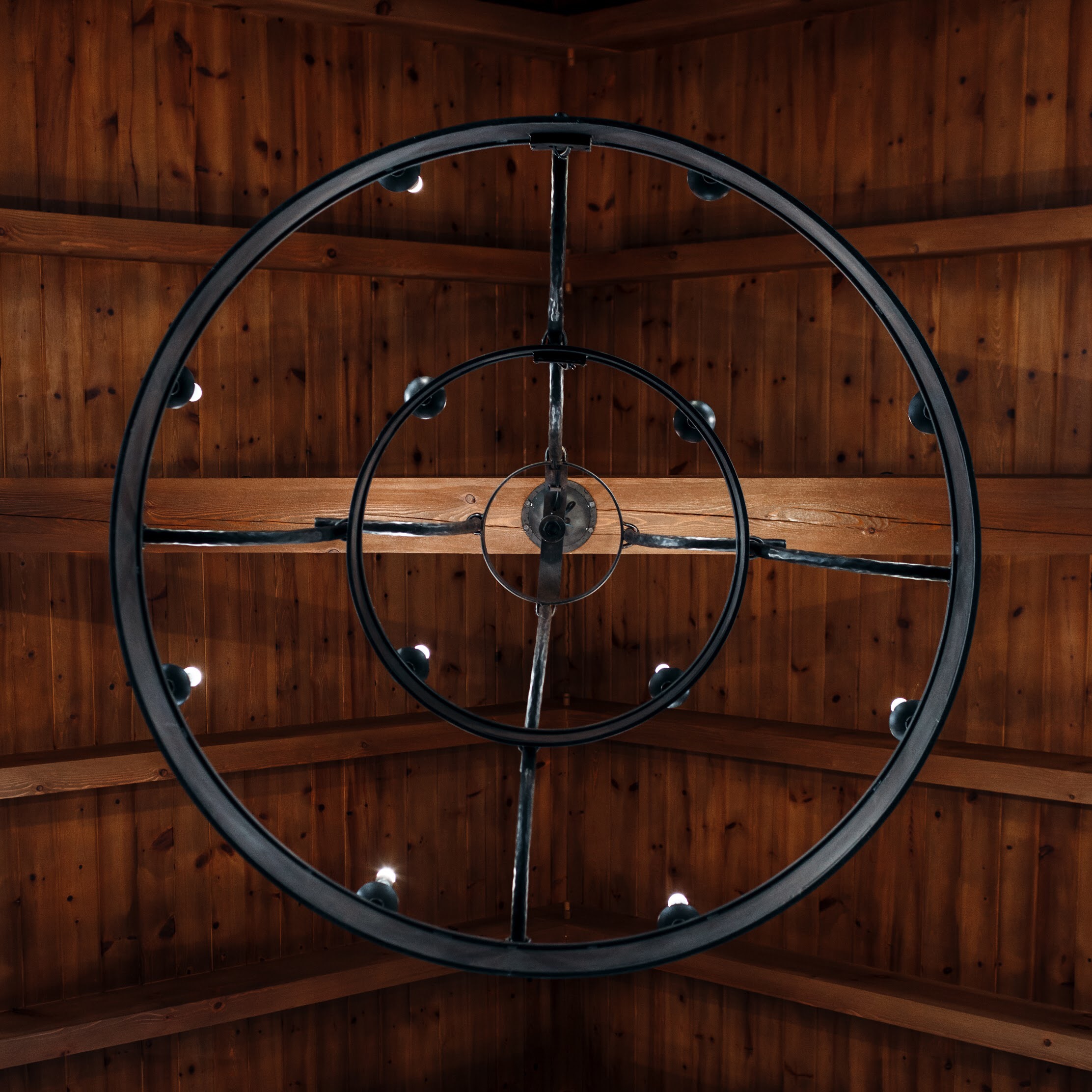 The wedding was winter wonderland but a warm one, Elsa wasn't anywhere around if you know what I mean. Nothing Christmas-y - meaning no Christmas trees, no Christmas ornaments, no "snow" just a cold winter night spend in a classy cabin partying a night away! The linens were nice and shimmery, the table design was linear (which added to that sexiness you now what i'm Saying ??) and as soon as we placed the chairs - the linear look was even more enhanced and took the whole table setting to a new level. The greens of winter, can be both very juicy in colour vivid greens dark greens, or they can be the muted grey tones ones, shaded a bit. We used both, we mixed all greenery with (baby's breath - which th bride adored) the reds had to be there too, and the whole picture was complete with crap loads fo candles, I mean this couldnt' BE complete with out floating candles, I mean there is nothing like the glistening glass with the water and the floating candles, the twinkle bounces off of the mirrored surfaces and it creates such an amabiance, fuzzy fuzzy but yet romantic feel. And I really think we nailed it for Annna, I mean check out her reaction when she walked into the room and saw it for the first time....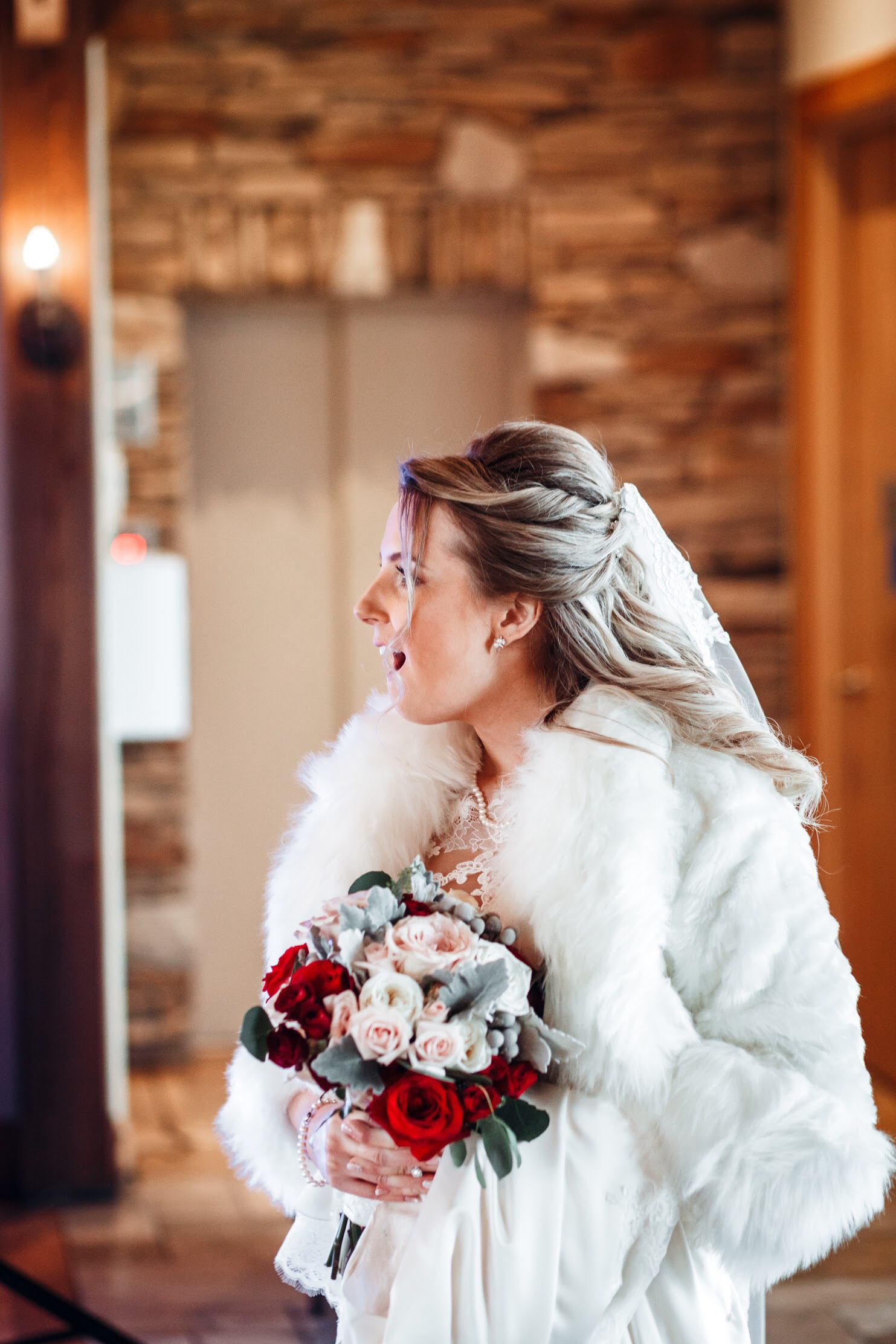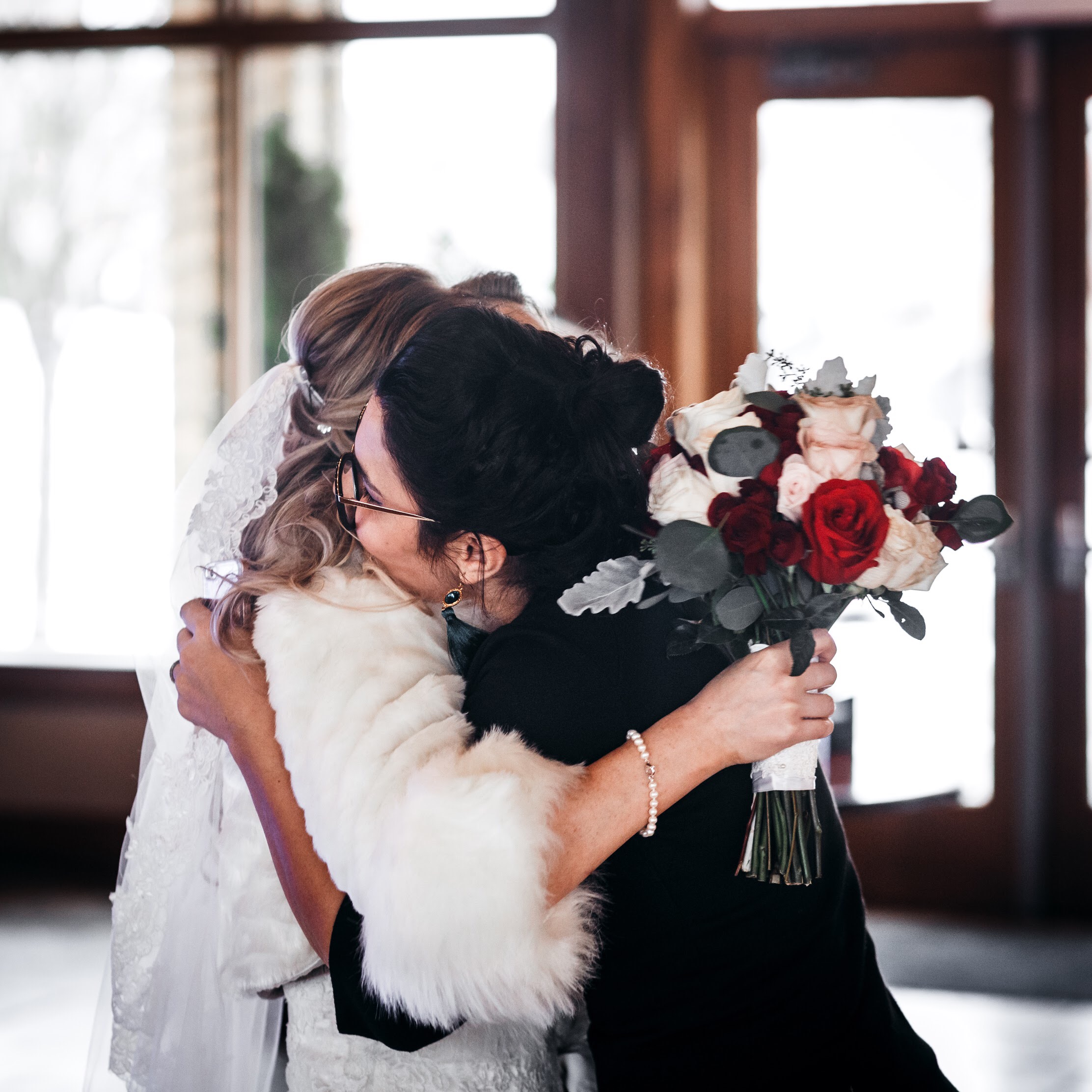 You know how much I love showing you BTS footage and in general my process etc.... so I had @summitartworks come and record the whole thing for us, hope you enjoy it as much as we did! Happy Sunday darlings, let me know what you think in the comments, would love to hear from you.
Ps: have anyone noticed my matching green emerald tassel earrings - a total match !
Pps: have you noticed, how we placed the white faux throw under the cake for that cabin feel?
Ppps: how amazing is Anna's white fur coat? The girls had them as well,but a mini version (more of a shawl) then the bridal one. These guys were absolute perfect, their theme, the day, the design everything, I will tag the production team below: the planning was executed by my friend Elena from: @youreffortlessevent
Event Design by yours truly the #OED team
BTS Photos: by our friend OLEH of @summitartworks
Venue: Red Cardinal Golf Club
Xoxo Margo